About Bad Boyz Bistro in Bedford, PA
Home of the Hottest Hot Wings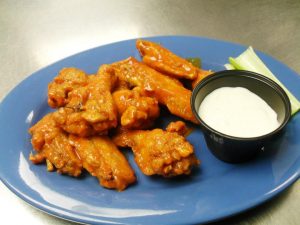 Bad Boyz Bistro offers casual dining in a fun atmosphere right in the heart of historic downtown Bedford, PA. Our menu features a selection of uniquely satisfying and delicious meals. Stop by and dive right into some of the best burgers and entrees in central Pennsylvania. If you're up for a true challenge, you're in luck. Bad Boyz Bistro is the Home of the Hottest Hot Wings. Try them. We dare you. Our aptly named Wings from Hell are so hot they singe the devil himself.
Our History
Bad Boyz Bistro was founded by owner Bryan Speck as a place for folks to enjoy great food and an amazing time with friends and family. Bryan had already enjoyed many years of success in the franchise world when he came up with the idea for Bad Boyz Bistro late one night. His idea was to bring energy and excitement to the area with a unique restaurant catering to the bold and the brave. That is how Bad Boyz Bistro was founded – and the rest is history.
Our Name
Our name, Bad Boyz Bistro, has drawn a lot of attention in the past. There has been much gossip and speculation, so we're here to set the record straight. Bryan Speck has always been known as a fun-loving "Bad Boy." After years of hard work pursuing his true passion, creating delicious food, and achieving many years of success in the culinary world, Bryan decided to offer Bedford a taste of the experience that led him to pursue his dream. When the dust settled and it came time to name his new restaurant, his rambunctious childhood and wild teenaged years came to mind, as well as our shared fascination with the famous and amusing "bad boys" from film, sports, politics, and more. The name "Bad Boyz Bistro" was the obvious choice. With great food and a focus on good times, Bryan invites you to enjoy quality time with friends and family in our lighthearted themed atmosphere.
Bad Boys Bistro Featured on Food Network's Outrageous Food
In April of 2011, Bad Boyz Bistro was featured on the Food Network's new hit show Outrageous Food! Our Wings from Hell draw in hot wing lovers from across the nation and around the world. Tom Pizzica is an experienced executive chef with a taste for the bizarre. He tours the United States to seek out the most extreme, jaw-dropping foods. Tom stopped in to try our wings, and we were thrilled to meet him! Check out some clips from his visit with Bryan at Bad Boyz Bistro:
Come try Bad Boyz Bistro: Where great food creates amazing times!